Cauleen Smith's Drylongso Depicts a Bygone Oakland
To the throbbing beat of Masauko Chipembere's "Beautiful People," a montage of Oakland flashes between zine-like stop-motion opening credits: the Fox Theater's art deco facade, dogs with wagging tails behind chain-link fences, women swaying their hips, dubbing on the pier. Welcome to Cauleen Smiths 1998 Drylongsoa film that is as joyful as it is sober, a tribute both to the West Oakland County where it was filmed and to black Americans idiom after which it was named.
Recently restored by Janus Films, Drylongso exudes the DIY charm of a low-budget first film (it was Smith's MFA thesis for UCLA) while sharply portraying the complexities of both racial and gender inequalities. West Oakland is decided not a hotbed of misery and despair, but home to a tight-knit working-class and middle-class community — a place of candy-colored houses with echoing staircases, sun-stained sidewalks, and black-owned bookstores. DrylongsoThe heroine of , Pica Sullivan (Toby Smith), is a photography student who hides extra money in a refrigerated Sanka can and hangs her Bob Marley poster over a small trampoline that serves as a bedside table for her college textbooks and landline phone .
Pica, a kind (if feisty) neighborhood flâneuse, comes to the rescue of Tobi (April Barnett), whose abusive boyfriend dumps her outside the home Pica shares with her mother. "I can call someone for you if you want," Pica offers, her braids glowing under the streetlights. Reintroduced a few scenes later, Tobi's ribbed sweater dress is swapped for an oversized hoodie and bandana, together concealing her gender. "Now when I walk down the street, the white people avoid me," explains Tobi. "And I don't miss being called 'bitch' just because I don't talk to a boy and his friends who drive by in a car."
The film's feminist sympathies include compassion for both black women enduring the violence of patriarchy And the black men whose lives are at risk under white supremacy and the prison state. "The life expectancy of black men is lower than that of most men in Third World countries," Pica shares among other disturbing statistics with her professor Mr. Yamada (Salim Akil, who co-wrote the film), an intellectual who worries about Kente their low attendance. Avoiding the 35mm methods of Yamada's course, Pica passionately documents the young men of Oakland – some of whom are later killed by the infamous "West Side Slasher" – with her trusty burgundy Polaroid.
Though a few plot twists feel forced (like Tobi's ability to take said slasher out in the dark with a 9mm camera) as an artifact of the late 1990s – a decade before the Obama presidency, before Oakland's dramatic gentrification and more than two decades earlier, nationwide protests against police brutality reached a climax Drylongso feels past and terribly prescient at the same time. At the same time, part of the film's brilliance is not trying too hard to be more than it is: a film about a black art student, directed by a black art student.
For her latest photo exhibition, Pica defies the standard gallery set up for an empty corner at Magnolia and 30th, assembling her Polaroids of slain young men into multimedia "shrines" made of everything from rusty Schwinns to dangling peppermint cans. Friends and neighbors introduced earlier in the film gather around a buffet of grilled meats and kale, admiring the portraits and exchanging words. "I must be the worst student you ever had," Pica says sheepishly to Mr. Yamada when he attends her show. "No," he replies, "only the most determined."
Drylongso Screens in Film at Lincoln Center's Elinor Bunin Munroe Film Center (144 W. 65th Street, Lincoln Square, Manhattan) March 17-23, with a subsequent nationwide rollout.
6 Ways to Use Books in the Art Classroom to Support ELA and Visual Literacy
Home / 6 ways to use books in art classes to support ELA and visual literacy
Literacy in art classes can be accessible and fun! students can understand while listening at a higher language level than reading. Reading aloud teaches important skills like focus and context to create meaning. It can also expose students to new worlds and perspectives and expand their language bank. If we can help students improve their writing, reading and critical thinking skills, it can support deeper art production and appreciation. Combine book literacy with visual literacy in the art room and see amazing things happen!
The University of Kansas discussed the importance of literacy and defined it as the ability to communicate clearly and effectively. ELA literacy focuses on reading, writing, listening and speaking. visual competence focuses on identifying, reading and understanding images. In an image-based world, colors, shapes, and even emojis are all part of visual literacy. Understanding these two areas of literacy and how they influence each other is necessary to succeed in today's society.
Let's explore six ways to use books in art classes to encourage ELA and visual literacy for all grade levels.
Note: Be sure to review all books beforehand to determine if they fit your district and school curriculum and are appropriate to share with your students.
1. Read aloud while students work.
During independent studio time, read an artist's biography or story that relates to your study unit. The class will be so eager to hear the story that they will tell each other to shut up!
2. Play audiobook.
Many schools and local libraries have a facility for borrowing audio books. As with the idea above, play an audio book while the class works on an assignment to keep them focused. Students love the voices and sound effects that an audio book can bring!
3. Illustrate bookstores.
Just like books, art can tell a story. Learning the parts of a story can be very useful. One part of a story to focus on is the plot. As you read, pause and ask the class what the plot is. Ask students to reason about what might happen next. Students can share it orally or draw it in their sketchbooks. This keeps the engagement going because they want to hear if their predictions are true!
See the FLEX lesson for more connections Literacy through storytelling. From Morse code and character sculptures to interpreting landscapes, this is an excellent reading and writing resource!
4. Review ELA concepts.
Link ELA concepts to this book. Not only does this ensure that all students have the same basic knowledge, but it also reinforces key concepts in new ways.
Here are some basic ones ELA concepts for each secondary school level:
Elementary
Identify characters, locations, major story events, traits, and themes.
middle school
Determine the theme and plot, and analyze how the setting shapes the characters.
Secondary school
Identify steps in the textual description of a process, analyze a series of cause-and-effect events, and locate the central idea.
5. Try bookbinding with your class.
Create books in an art classroom using recycled items or using professional-level materials. Bookbinding takes many forms and has a rich history. Use books as tools for students to write and illustrate their own story, or use them to gather information, like a sketchbook or graphic organizer.
Here are a few ideas for making your own books:
6. Discuss color symbolism.
Discuss how color can bring additional meaning. Help students associate colors with the main enemies and protagonists in a story. Select color schemes to convey the mood of a specific scene. Create artwork that focuses on color to illustrate a character or scene. Set a timer to make this announcement a great ringer!
reading books aloud or quietly; Listen to them, share them, create them, fold them or bind them together. Imagine stories, record them, illustrate them or write them down. ELA literacy and visual literacy are both important tools to be able to read and write in this world. When paired, they create new connections and reinforce existing ones. Bring the art of literature into your classroom with the ideas outlined above and discover new levels of creativity and engagement!
Tell us your favorite way to integrate books into the classroom.
What is your favorite book to share with your students?
How Can a Curator Approach South Asian Futurisms?
What is South Asian Futurism? How does a curator carefully deal with this topic?
During this scholarship I went back to my favorite childhood Hadith: ربِّ زِدْنِي عِلْماً – – "O Lord, increase me in my knowledge." Until recently, most of the artists I spoke to were class or caste privileged and in or around New York. How do I acknowledge my shortcomings while reckoning with veiled stories and the exclusion of subaltern narratives in the visual arts landscape—and my own realm?
I have reflected on the frustrations of artists sharing experiences in which curators have approached them with reductive exhibition proposals based solely on common racial or gender identifiers. Some of the artists I interviewed for this grant also expressed concerns about being included in the South Asian Futurisms category. I accept your feedback with gratitude.
I seek a constructive, open-ended, and shifting framework of South Asian futurisms broad enough to encompass the subaltern narratives of caste-oppressed and religiously marginalized communities. I don't have all the answers, but I do have a growing body of questions.
Therefore, I present a work checklist for curators designing thematic exhibitions related to South Asian and subaltern futurisms, which includes contributions from contemporary artists and scholars (labeled with their names next to the suggested question). My intention is for these questions to guide me and other curators, thinkers, and writers as we strive not to replicate ingrained prejudices.
Curatorial Framework Checklist for South Asian Futurisms
intention of the terminology
What do Futurism and South Asia represent, and what dominance within these two ideas do we need to acknowledge first? — Himali Singh Soin, artist
How does futurism look, feel, sound, smell and taste to me?
How does futurism look, feel, sound, smell and taste for the artist?
What are the limitations of the English language in describing South Asia?
What are the cultural terms of identification with which the artist connects – or not -? Would you like to be identified as such in writing? Do these terms need to be included? Do they add substance to the scholarship?
What are the limitations of the English language in describing concepts such as time, space and geography? How do I frame and contextualize my choice of terminology?
Recognizing and dissolving hierarchy
Am I aware of my own relationship to caste and class?
Have I made an active and genuine effort to connect with artists outside of my own caste, class, gender, geographic proximity, and/or religious identity?
What are the caste identities of the artists I am including?
Do I tokenize?
Does curation undermine, preserve, or render invisible the caste system? How do I implement Ambedkarite discuss informed? — Prabhakar Kamble, curator, activist and artist
Do I preserve or break hierarchical class constructs?
Am I maintaining or disrupting linear Eurocentric notions of time, space and geography?
What role does historical awareness play in the conception of futurisms?
Artistic intention and process
What is the artist's intention? What drives your practice? — Subash Thebe Limbu, artist
Which artists, thinkers or movements influence the artist's work and his understanding of futurism?
Who are the artists' collaborators?
What natural environments have influenced the artist's work?
Which archives and primary sources does the artist refer to in her research?
What religious iconography does the artist use? Is it critical and caste related?
artist-curator relationship
How does the artist fit her work into the broader context of Futurism and historical and contemporary social justice movements?
Am I creating a safe space for the artists? For myself?
In which contexts does the artist want to see his work – formally, materially and beyond? — Melissa Joseph, artist
How can I support this artist to achieve the maximum potential for their desired project? — Sa'adia Rehman, artist
What resources and technologies are available to the artist? How has this affected your practice?
How is the artist confronted with – and overcome – epistemic and systemic injustice?
How do I access and provide resources for artists to bring their ideas to life? Do I have the capacity and skills to do this?
Am I giving thoughtful criticism and feedback, or am I projecting my own desires?
sustainability and connectedness
Am I building a lasting, sustainable, and symbiotic relationship with the artist?
How do I consider climate vulnerability and materials/waste in my curation? — Anjuli Raza Kolb, Associate Professor of Arts and Sciences at Dartmouth University
How do we maintain artistic integrity when curating in a commercial space? In an institutional space? On a digital platform?
How does this curation foster connectedness?
---
Editor's Note: This is part of the 2022/23 Emily Hall Tremaine Journalism Fellowship for Curatorsand the second of three posts by the author, The third of these will be an online exhibition sent to all Hyperallergic subscribers. to register Here for Sadaf Padder's virtual event hosted by Editor-in-Chief Hrag Vartanian on Tuesday, March 28 at 6 p.m. EDT.
Juxtapoz Magazine – A Portfolio: Park Sun-Kyo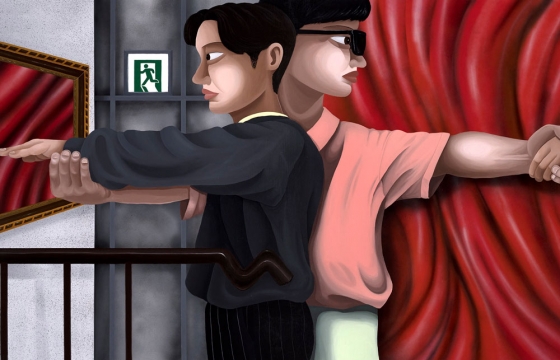 As we do a few times a week on Juxtapoz.com, we present ours A portfolio series, this time with a Korean painter, Park Sun Kyo. The Seoul-based artist came onto our radar in 2019 and as the pandemic continued his work became even more refined, powerfully bold and deeply in touch with the characters' personalities.
His work has been featured in several exhibitions including Familia, WOAW Gallery, Hong Kong (2021); Summer Camp, GR Gallery, New York (2021); Fresh, Padre Gallery, New York (2021); Nice Boys Live Forever, Moosey Art, London (2021); Eulji Art Fair (2020); Shinwa Auction, Tricera Gallery (2020); 모락모락展 (Morak Morak), iLHO Gallery, South Korea (2020); Ultimate3, Lydia Gallery, Seoul (2020); Objects, CICA Museum, Gimpo, South Korea (2020); SEEA 2019, Seongnam Arts Center, South Korea (2019); KOREA, Piccadilly International Art Museum, South Korea (2019) and Young Creative Korea 2018, Ara Art Center, Seoul (2018).