What Salamanders Tell Us About Our Future on Earth
The achoque is an endangered species of salamander native to Lake Pátzcuaro in Michoacán, Mexico. It is known for its regenerative properties – it can regrow lost limbs or even organs. This makes it interesting for religious pilgrims, who buy an extract of the salamander sold by the nuns of the Basílica de Nuestra Señora de la Salud ("Our Lady of Health"), who have been raising the animals for over 150 years. It has also caught the attention of the US military, who have dreams of creating soldiers with the same ability to heal themselves. The nuns' achoque population is now larger than those in the wild. The opening scene of A common order follows fishermen who find none when trawling the lake. The documentary's title refers to the basic DNA script used to give birth to all life on Earth. By observing the lake and two other settings, the film reflects on the different ways humans evaluate, categorise, understand and often exploit nature.
The Achoque have been almost wiped out of their habitat by invasive species. Younger Mexicans who cannot find work fishing travel abroad to find work. The film follows them to Prosser, Washington, where they get jobs picking apples. Not far away, researchers at Washington State University are refining a machine learning algorithm they hope will help automated robotic arms pick apples with 20% greater efficiency, a seemingly negligible improvement they claim is improving the industry every year would save millions. Farther away again, on Cheyenne River Sioux land, the film visits Native BioData Consortium director Joseph Yracheta, who is of partial P'urépecha descent, like the fishermen of Michoacán. Through video conferences, Yracheta tries to warn the public about the dangers of genomic patents, about private companies that own the rights to certain DNA sequences. Given the long history of medical exploitation that tribal peoples in the US have suffered, he is particularly concerned about what these companies would do with tribal DNA.
Directors Mary Helena Clark and Mike Gibisser weave a common thread of indigeneity between these diverse locations, exploring how strikingly mundane material can sit at the forefront of experimental science. A lot of A common order is about day-to-day work and invites the viewer to see the intersections between fishermen sorting their nets, workers picking fruit in an orchard, nuns tending to salamanders in tanks, and engineers checking their numbers. Despite seemingly mundane settings, it is sometimes stunningly beautiful, as in a sequence showing the lake at night, lit only by the fishermen's searchlights. The salamanders drift almost dreamily in their tanks, next to wriggling swarms of food worms. A computer algorithm forms the outline of an apple – but has that really done anything if the mechanical eye and arm can't comprehend what an apple really is Is? Does it matter as long as he can skillfully pick the fruit?
A common order approaches issues surrounding the reduction of the biological commons in a way that might seem novel for a documentary. Instead of taking a macro look and inundating the audience with facts and figures, it uses its trio of locations to demonstrate more tangibly and directly how these issues manifest themselves in everyday life. part of science on the screen Program in the Museum of the Moving Image First sight Festival, the film embodies the festival's experimental spirit. It's a strange but often compelling look at the possible scientific advances of the future – both wondrous and unnerving.
A common order will have its US premiere on March 18th as part of the First Look Festival at the Museum of the Moving Image (36-01 35 Ave, Astoria, Queens).
How Can a Curator Approach South Asian Futurisms?
What is South Asian Futurism? How does a curator carefully deal with this topic?
During this scholarship I went back to my favorite childhood Hadith: ربِّ زِدْنِي عِلْماً – – "O Lord, increase me in my knowledge." Until recently, most of the artists I spoke to were class or caste privileged and in or around New York. How do I acknowledge my shortcomings while reckoning with veiled stories and the exclusion of subaltern narratives in the visual arts landscape—and my own realm?
I have reflected on the frustrations of artists sharing experiences in which curators have approached them with reductive exhibition proposals based solely on common racial or gender identifiers. Some of the artists I interviewed for this grant also expressed concerns about being included in the South Asian Futurisms category. I accept your feedback with gratitude.
I seek a constructive, open-ended, and shifting framework of South Asian futurisms broad enough to encompass the subaltern narratives of caste-oppressed and religiously marginalized communities. I don't have all the answers, but I do have a growing body of questions.
Therefore, I present a work checklist for curators designing thematic exhibitions related to South Asian and subaltern futurisms, which includes contributions from contemporary artists and scholars (labeled with their names next to the suggested question). My intention is for these questions to guide me and other curators, thinkers, and writers as we strive not to replicate ingrained prejudices.
Curatorial Framework Checklist for South Asian Futurisms
intention of the terminology
What do Futurism and South Asia represent, and what dominance within these two ideas do we need to acknowledge first? — Himali Singh Soin, artist
How does futurism look, feel, sound, smell and taste to me?
How does futurism look, feel, sound, smell and taste for the artist?
What are the limitations of the English language in describing South Asia?
What are the cultural terms of identification with which the artist connects – or not -? Would you like to be identified as such in writing? Do these terms need to be included? Do they add substance to the scholarship?
What are the limitations of the English language in describing concepts such as time, space and geography? How do I frame and contextualize my choice of terminology?
Recognizing and dissolving hierarchy
Am I aware of my own relationship to caste and class?
Have I made an active and genuine effort to connect with artists outside of my own caste, class, gender, geographic proximity, and/or religious identity?
What are the caste identities of the artists I am including?
Do I tokenize?
Does curation undermine, preserve, or render invisible the caste system? How do I implement Ambedkarite discuss informed? — Prabhakar Kamble, curator, activist and artist
Do I preserve or break hierarchical class constructs?
Am I maintaining or disrupting linear Eurocentric notions of time, space and geography?
What role does historical awareness play in the conception of futurisms?
Artistic intention and process
What is the artist's intention? What drives your practice? — Subash Thebe Limbu, artist
Which artists, thinkers or movements influence the artist's work and his understanding of futurism?
Who are the artists' collaborators?
What natural environments have influenced the artist's work?
Which archives and primary sources does the artist refer to in her research?
What religious iconography does the artist use? Is it critical and caste related?
artist-curator relationship
How does the artist fit her work into the broader context of Futurism and historical and contemporary social justice movements?
Am I creating a safe space for the artists? For myself?
In which contexts does the artist want to see his work – formally, materially and beyond? — Melissa Joseph, artist
How can I support this artist to achieve the maximum potential for their desired project? — Sa'adia Rehman, artist
What resources and technologies are available to the artist? How has this affected your practice?
How is the artist confronted with – and overcome – epistemic and systemic injustice?
How do I access and provide resources for artists to bring their ideas to life? Do I have the capacity and skills to do this?
Am I giving thoughtful criticism and feedback, or am I projecting my own desires?
sustainability and connectedness
Am I building a lasting, sustainable, and symbiotic relationship with the artist?
How do I consider climate vulnerability and materials/waste in my curation? — Anjuli Raza Kolb, Associate Professor of Arts and Sciences at Dartmouth University
How do we maintain artistic integrity when curating in a commercial space? In an institutional space? On a digital platform?
How does this curation foster connectedness?
---
Editor's Note: This is part of the 2022/23 Emily Hall Tremaine Journalism Fellowship for Curatorsand the second of three posts by the author, The third of these will be an online exhibition sent to all Hyperallergic subscribers. to register Here for Sadaf Padder's virtual event hosted by Editor-in-Chief Hrag Vartanian on Tuesday, March 28 at 6 p.m. EDT.
Juxtapoz Magazine – A Portfolio: Park Sun-Kyo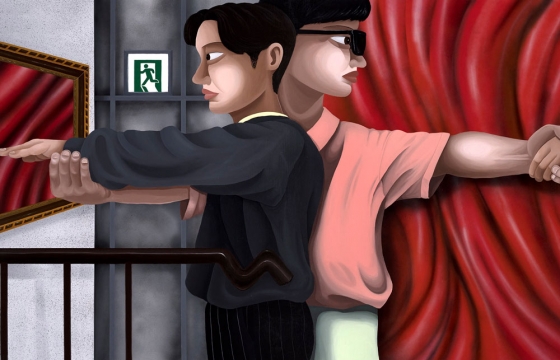 As we do a few times a week on Juxtapoz.com, we present ours A portfolio series, this time with a Korean painter, Park Sun Kyo. The Seoul-based artist came onto our radar in 2019 and as the pandemic continued his work became even more refined, powerfully bold and deeply in touch with the characters' personalities.
His work has been featured in several exhibitions including Familia, WOAW Gallery, Hong Kong (2021); Summer Camp, GR Gallery, New York (2021); Fresh, Padre Gallery, New York (2021); Nice Boys Live Forever, Moosey Art, London (2021); Eulji Art Fair (2020); Shinwa Auction, Tricera Gallery (2020); 모락모락展 (Morak Morak), iLHO Gallery, South Korea (2020); Ultimate3, Lydia Gallery, Seoul (2020); Objects, CICA Museum, Gimpo, South Korea (2020); SEEA 2019, Seongnam Arts Center, South Korea (2019); KOREA, Piccadilly International Art Museum, South Korea (2019) and Young Creative Korea 2018, Ara Art Center, Seoul (2018).
Hello Tomorrow! main titles | Communication Arts
Answers from Ronnie Koff, Creative Director, imaginary forces.
Background: We created a title sequence to show the vastness of Apple TV+'s sci-fi drama Hello morning! and its universe. We set the table for this retrofuturistic tale with a hypnotic flare.
Design thinking: The show's main character, Jack Billings – played by actor Billy Crudup – heavily influenced the title sequence. He's playing a salesman, so we wanted to play with that in the design and make the sequence an expression of the invention he's selling.
Challenges: Since then, we've really wanted to go against the grain of traditional dark, moody design for a drama series Hello morning! has a comedic sensibility. We bring the innovative retro feel of this era to life and set the tone for a wide range of storytelling ideas. The title sequence is colorful and charming, but still mysterious and flawed.
favorite details: If you look closely throughout the sequence, you can see the logo of APP, the manufacturing company in the show's alternate universe. It's a fun detail that might go unnoticed.
Visual influences: We took inspiration from the work of Charles and Ray Eames and the 1964 New York World's Fair to sell the story of the imagination of that era.
Specific project requirements: Each vignette references ideas and themes tied into the show. Even the hand near the end of the sequence has meaning that will pay off later.